Categories
Harpreet & Manny - Saturday 15th July 2017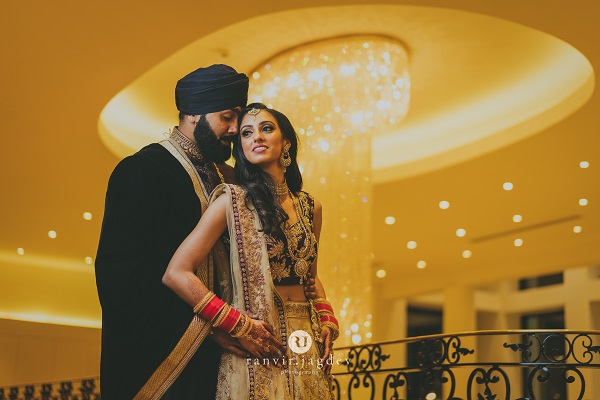 Harpreet and Manjinder had the Wedding Reception at Meridian Grand last summer. The evening was their dream come true – with Meridian Grand's Event Management team taking care of the A to Z of their wedding, including catering, décor and lighting. The Groom, Manjinder commented: 'The experience with Meridian Grand has been superb from start to finish, with lots of help, lots of guidance, we have had no stress, we haven't had to do anything. Everything was done for us throughout the whole thing. I am very very grateful for the effort put in by the whole team at Meridian Grand.'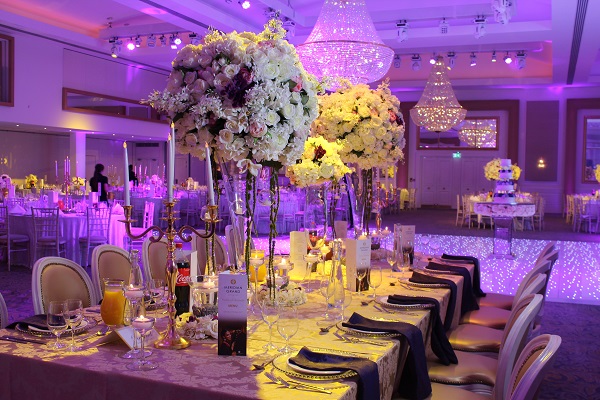 Photography by Meridian Grand
Upon arrival from the Gurdwara, the Bride, Groom and Bride's Sisters relaxed and got changed in the VIP Suites – whilst the guests got started on canapes, cocktails, a live chaat station and photobooth in the Meridian Ballroom. The guests then moved into the show stopper; the Grand Ballroom. The décor team, Midnight Garden had set the Ballroom beautifully for 500 guests in Harpreet and Manny's chosen purple theme. The couple's sweetheart table was placed directly under the chandelier. The stage was simply stunning with elegant white draping, crystal buttoned chesterfield panels, large blossom trees on the sides of the stage, gorgeous silk flower arrangements and candles scattered on the head table and stage, the Bride and Groom were the centre of attention.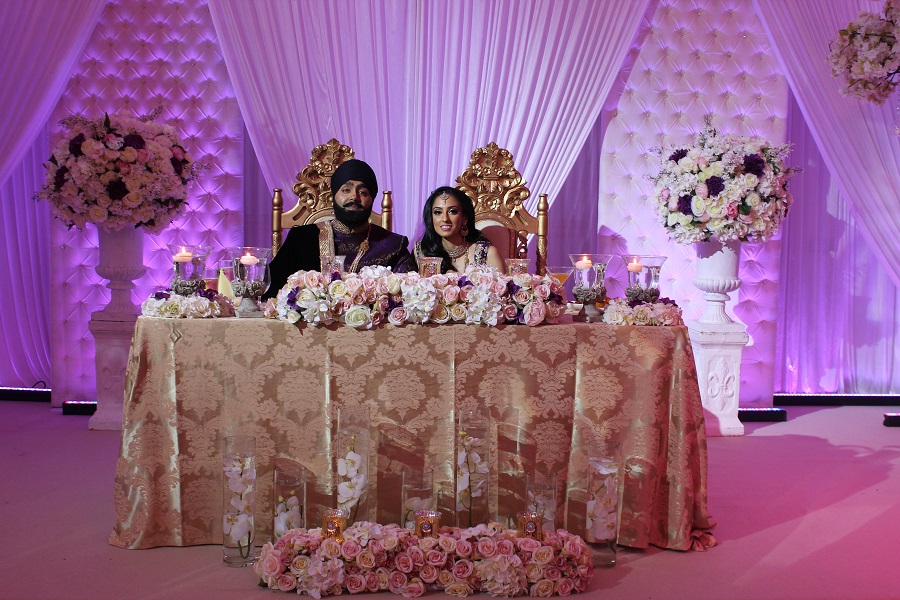 Harpreet & Manjinder
'They have helped with all the planning, all the table setups, everything I have wanted they have been able to incorporate and they have made it perfect.' Harpreet (Bride)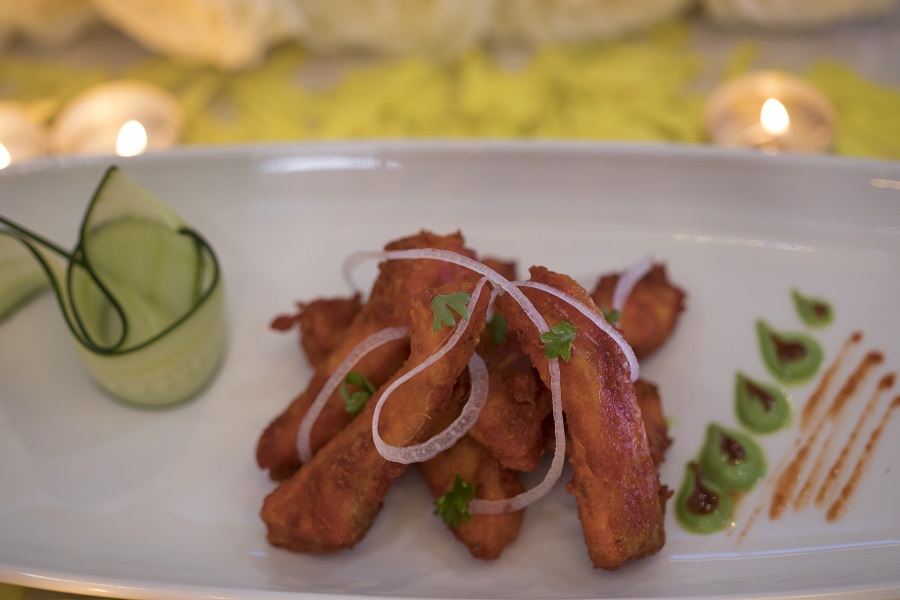 Photography by The VIP Studio
The other tables were beautifully decorated with large silk floral arrangements compromising of silk roses and hydrangeas in one metre glass-footed vases, with delicate tea lights hanging down from the arrangements. Other tables had stunning gold urns that perfectly complimented the gold features within the ballroom. The ballroom looked absolutely mesmerizing.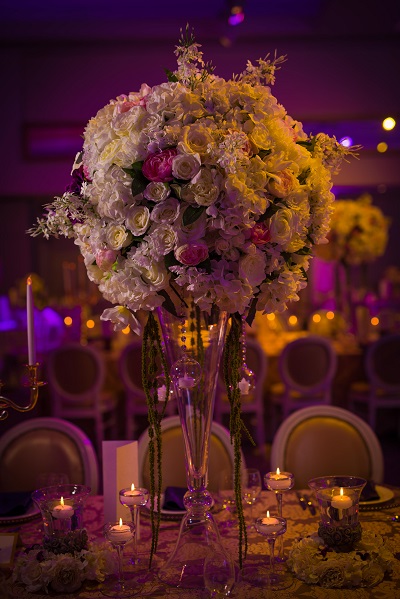 Ranvir Jagdev Photography
'The only word that comes to my mind about Meridian Grand is ''perfect''. The service, help, assistance, food, professionalism and the team were all perfect. From the moment we came to view the venue me and Harpreet knew it would be amazing. Nikkita was very helpful and always gave her opinion on how we can do certain set ups or layouts, they were able to do anything we wanted as we wanted with no issues. At the food tasting we met Risha who was our planner throughout the process, again she guided us and gave us full support leading up to the reception and many new ideas that helped throughout to make it less stressful. Moving on to the wedding day, the whole team was there when we needed them, to amend anything we wanted but to top it all off everything was stress free. The whole night went so smoothly and was incredible. We are so happy that we chose Meridian Grand and it's a night we both won't ever forget. All our friends and family said the venue was amazing and it was the wedding of the century. Thank you to everyone at Meridian and I recommend anyone looking to get married to choose Meridian as their venue. The whole team do so much for you and make a lot of effort. Thank you for making our wedding so special. Love Harpreet and Manny.'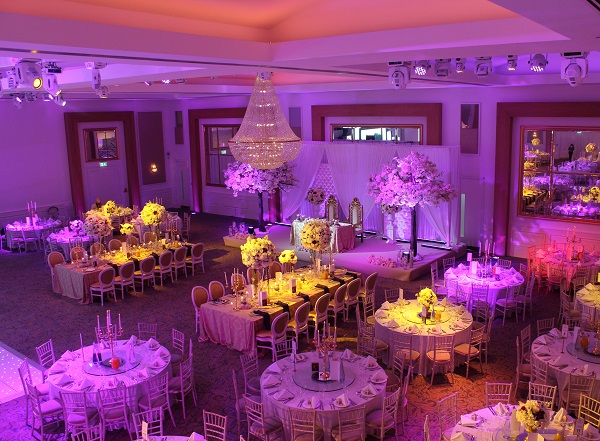 Photo taken by Meridian Grand
A big thank you to all the Suppliers that helped on the day:
Caterers: Meridian Grand Catering
Decor: Midnight Garden
Lighting: CDS Lighting
Chocolate Fountain: Midnight Garden
DJ: Calibar Roadshow
Photography: Ranvir Jagdev Photography
Videography: Sukh
Photobooth: Clique Clique
Cake: La Gateau
Dhol Players: Beat Alliance & Imperial Drummers
MUA: Jas Birk & Shenaz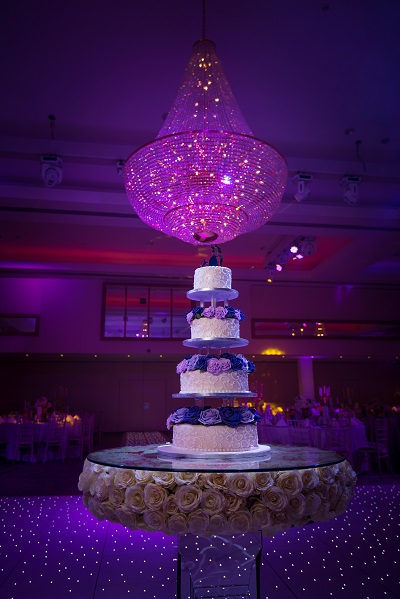 Cake by La Gateau & Photography by Ranvir Jagdev Photography
Read More