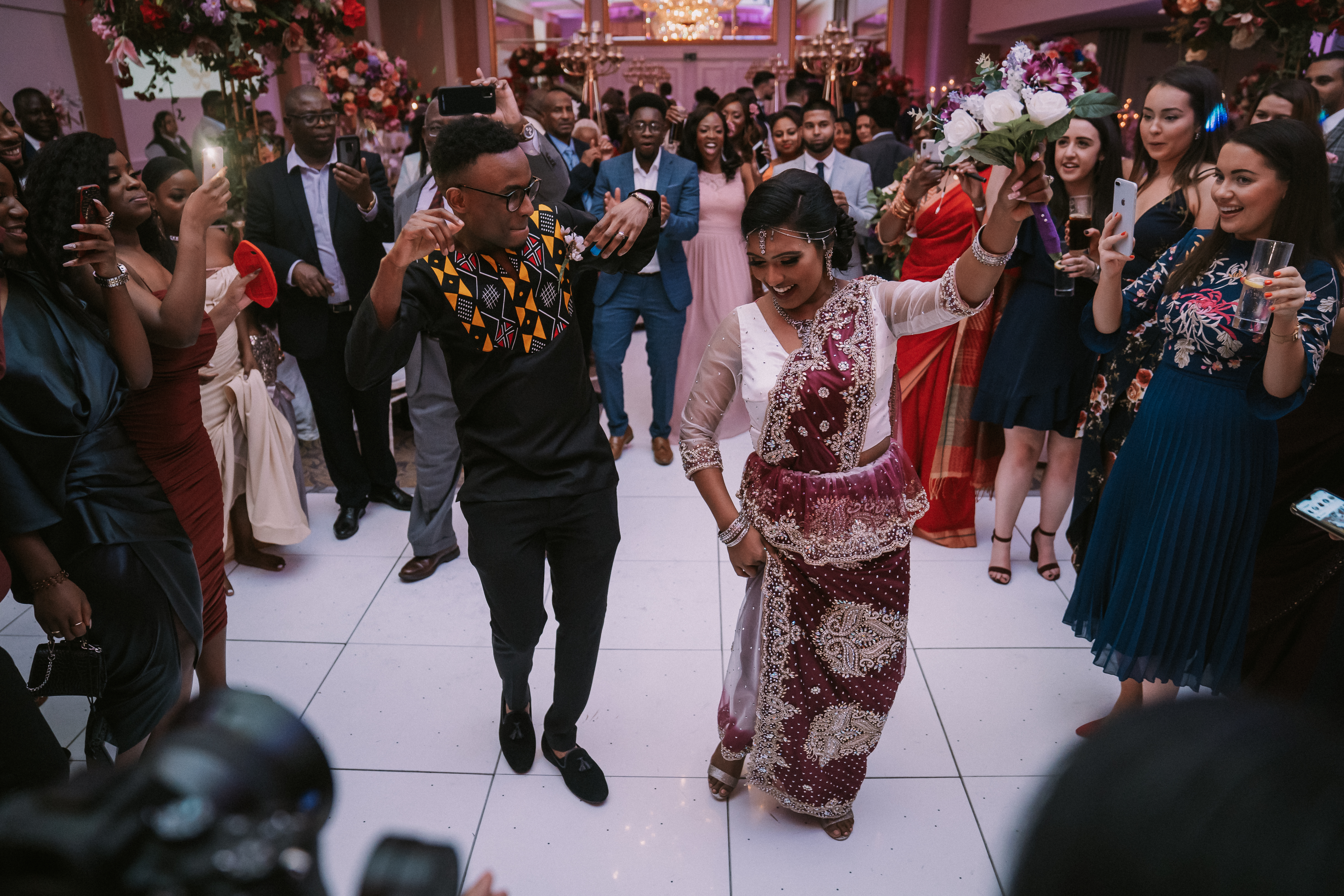 'We are both very proud of our heritage and we want to incorporate both cultures into our special day' and that's exactly what they did! Natasha and Stanley's Zim Lankan wedding – a day that will be remembered by everyone forever.
On the 7th March 2020, just before the world went into lockdown, Natasha and Stanley celebrated their amazing Wedding Reception at Meridian Grand.
The couple first saw the venue in October 2018 and just knew it was the venue for them! As well as the luxurious feel of the venue, they loved that Meridian Grand were able to provide a complete service including the 5 star venue, event management, décor, catering and drinks.
After bringing their parents to the venue and seeing their excitement, they booked the venue and that's where the planning began.
The Bride is Sri Lankan and the Groom is Zimbabwean, both have very strong and vibrant cultures and it was important for them and their families to embrace both cultures and follow certain traditions during the Reception.
The Meridian Grand team had been fortunate enough to hold many Sri Lankan Weddings as well as a Zimbabwean Wedding and were able to help the Bride and Groom to come up with ideas that will incorporate these traditions and make their wedding extra special!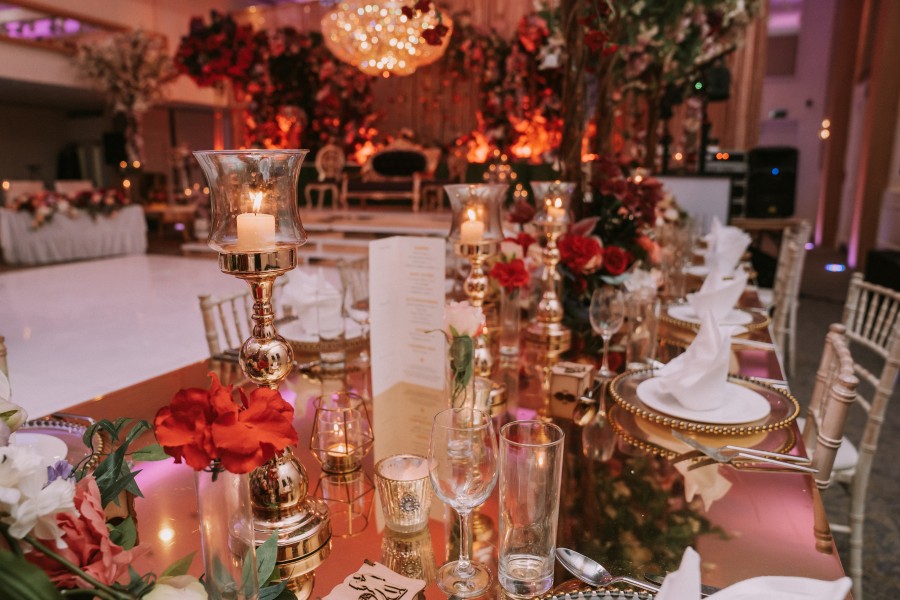 The catering was a key priority for Natasha and Stanley, their traditional foods were very different from each other and therefore Meridian Grand suggested they go for the Fusion Catering Package. This package was a mixture of Sri Lankan, Indian, African, Caribbean & Chinese cuisine. Their delicious menu included Sri Lankan Style Mutton Curry, Jerk Chicken, Vegetable Fried Rice, Noodles and Plantain plus a whole lot more.
On each table were two menus, each had a beautiful picture of the couple and to add to the fun, inside the menu there was a section where guests could write some 'advice for the Bride & Groom,' it was a perfect little keepsake.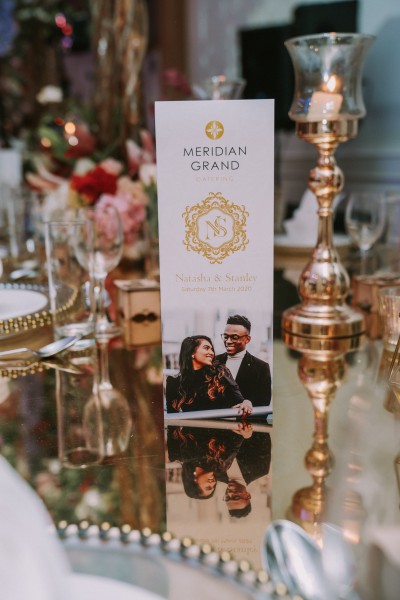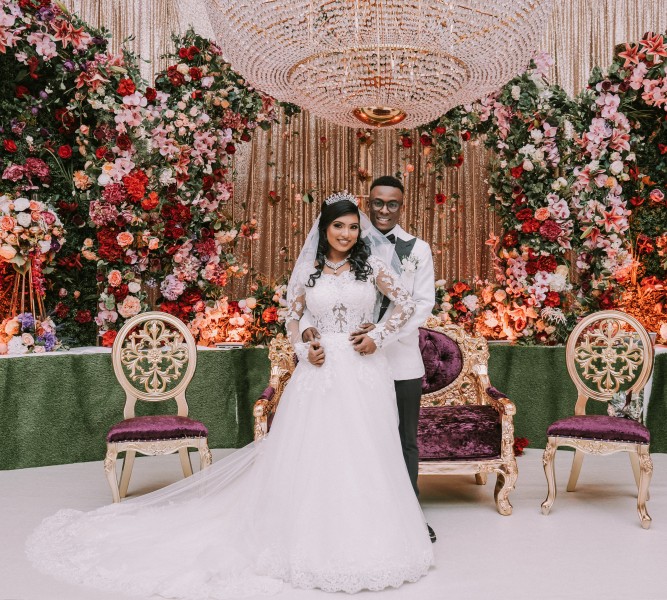 Having an event manager on hand meant that things were on time and to schedule (this could not have happened without the guests being on time too – thanks to all the guests!)
So at exactly 4.45pm, all guests were seated, and the MC began hosting, the atmosphere was buzzing and everyone was eagerly awaiting the Bride & Groom. Then, the music began (Fabolous and Tamia's RnB classic 'Into You'), the mirrored doors slowly opened, revealing the newly married Bride & Groom!! This was when the crowd went crazy!!! It was the perfect start to what would be an amazing night!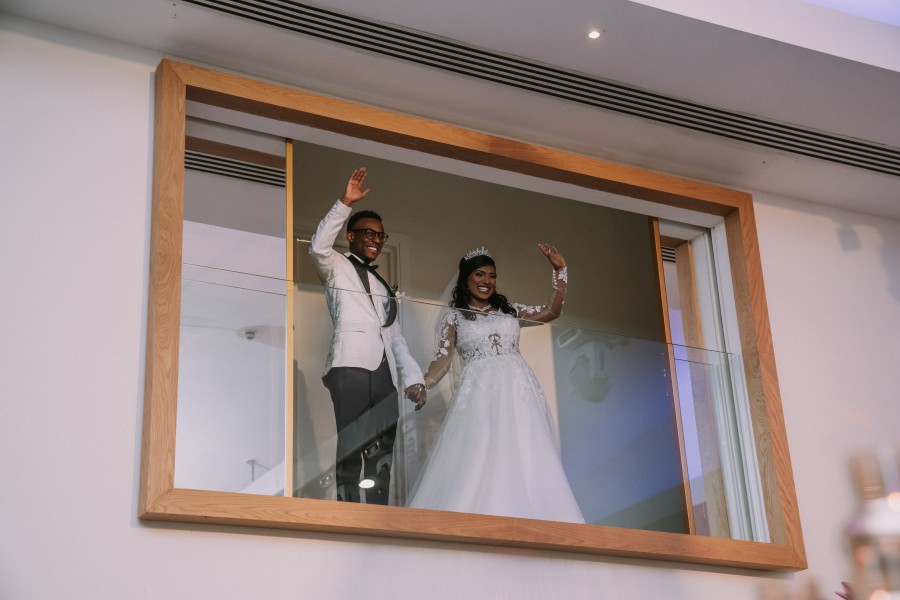 Whilst the couple made their way downstairs into the foyer, the Bridesmaids and Groomsmen danced their way into the ballroom, followed by Natasha & Stanley!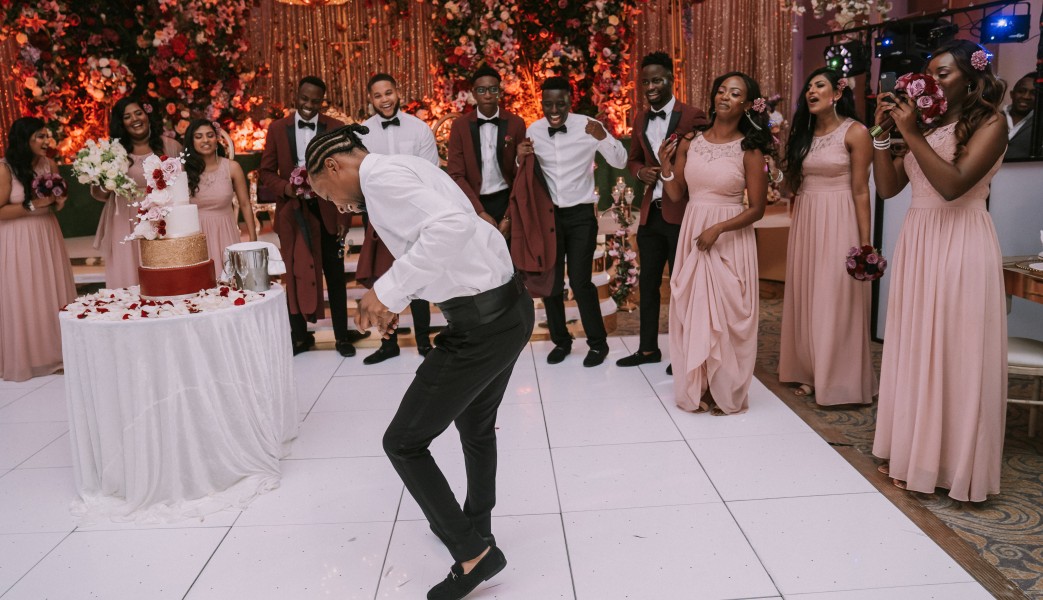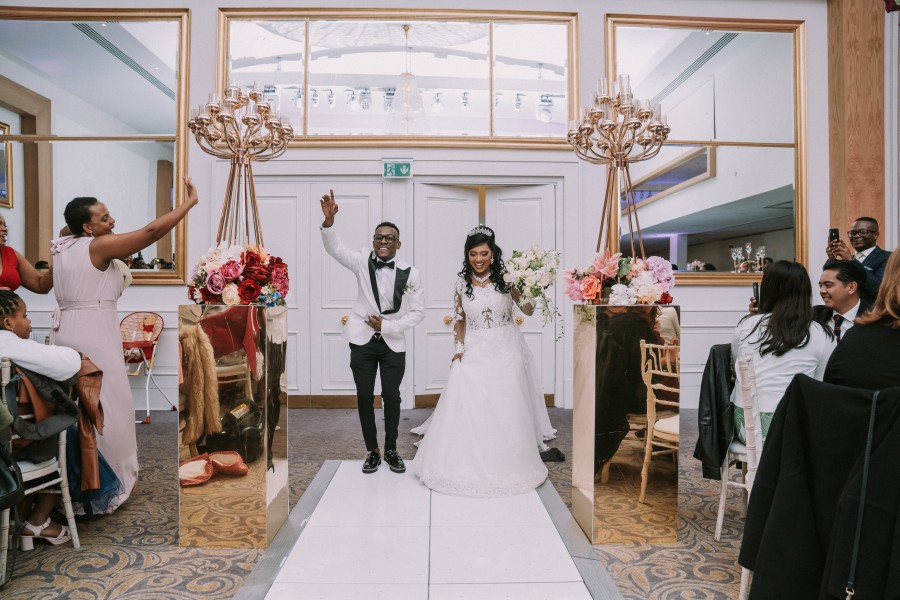 As they entered, they lit an oil lamp, a traditional Sri Lankan ceremony, which signifies the start of a blissful and blessed married life.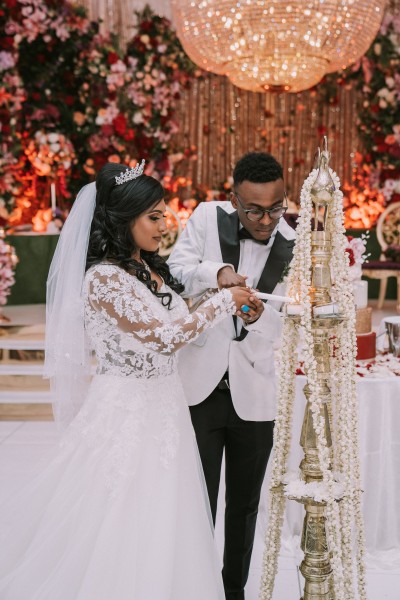 After dinner, Natasha changed into a traditional Sri Lankan Saree and Stanley wore a dark co-ord with a colourful African print.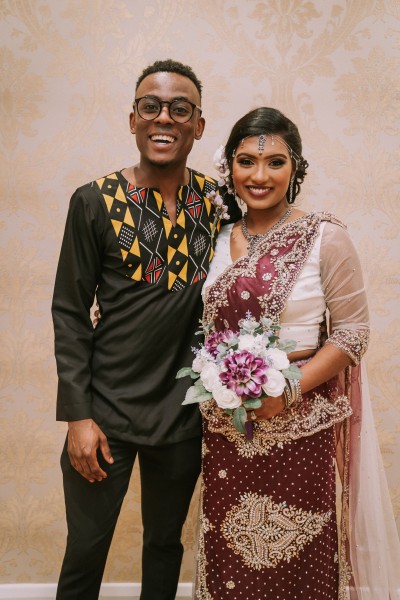 Throughout the evening, there was lots of food, lots of crying and laughter during the speeches and some special performances by their nearest and dearest.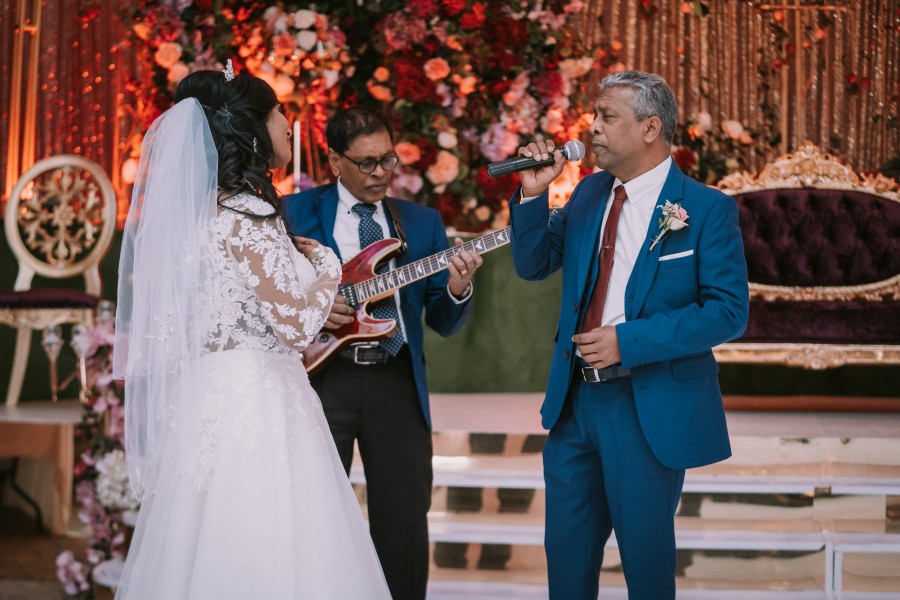 Weddings are not only about the Bride & Groom, but also a very important day for both sets of parents. The father and daughter song (the bride's father sang her a dedicated song) and the mother and son dance were heart-warming moments for everyone.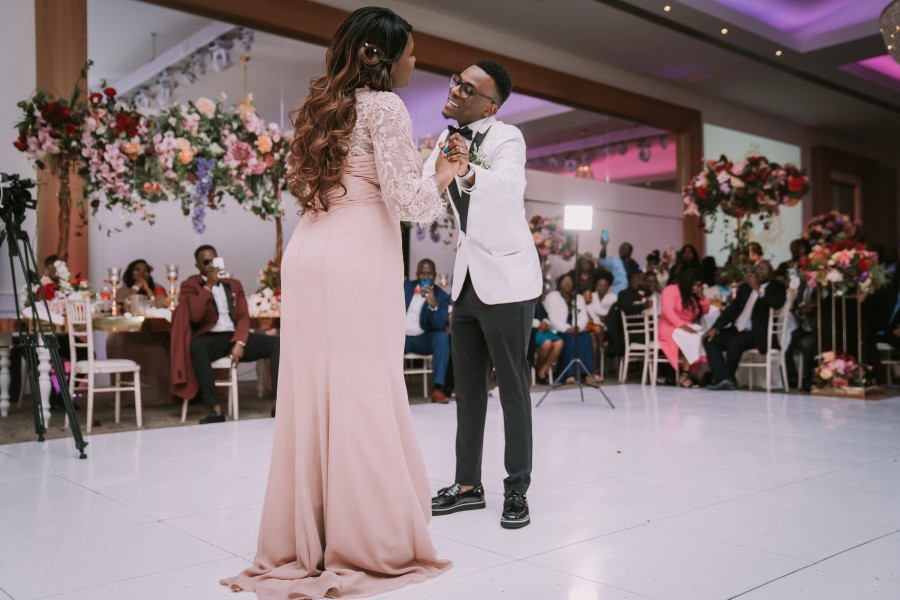 The most magical moment of the night was Natasha & Stanley's first dance to an acoustic rendition of Sam Smith's 'Latch' - it was so beautiful!!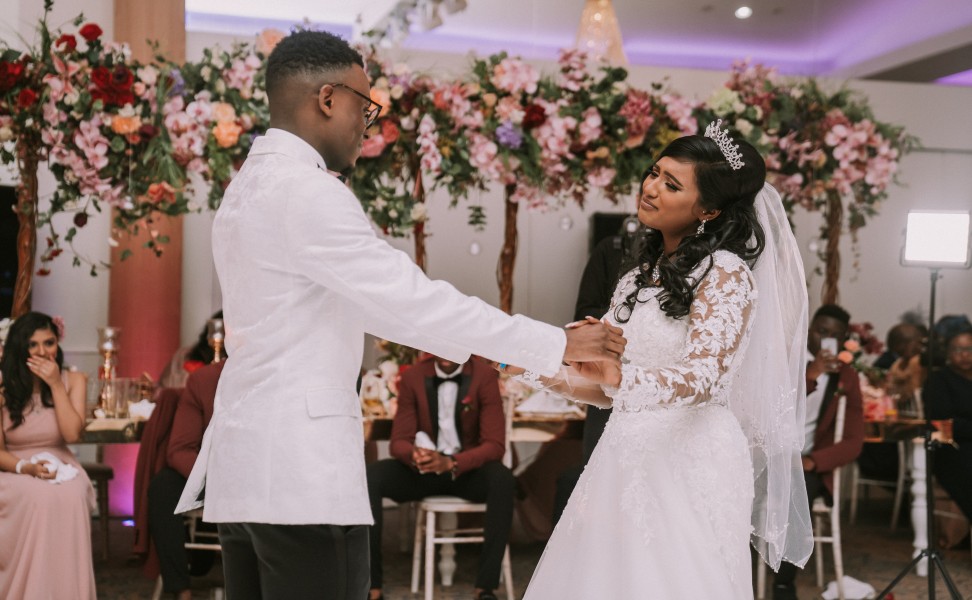 To keep in line with the whole Zim Lankan fusion, DJ Mega Gee played a 'Sounds of Africa' set and then they had a non-stop baila session by Sri Lankan musicians, followed by a couple of hours of RnB, Hip Hop and Garage. It was truly a night enjoyed by everyone - young and older!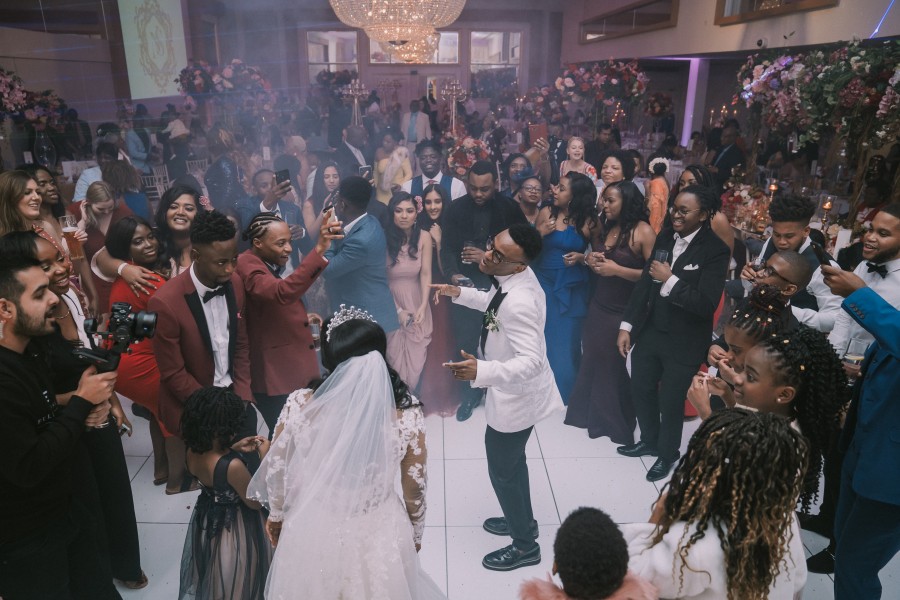 As the clock struck twelve, it was time for the couple to go home and start their new life together, but they couldn't leave without saying a few words 'it was the best organisation, it was such a beautiful event and I'll never forget it, it was amazing. Thank you to everyone at Meridian Grand and Midnight Garden. You brought our vision to life and we can't thank you enough'
It was a pleasure working with these suppliers - thank you for helping to make Natasha & Stanley's Wedding Reception unforgettable!
Caterers: Meridian Grand Catering
Decor: Midnight Garden Events
DJ: Mega Gee
MC: Jackson Ogunyemi
Band: Chaminda Munasinghe
Cake: Bespoke Cakes and Treats
Cupcakes: Jennifer Choto
MUA & Hairstylist: Dulanjali
Photographer & Videographer: Full Exposure Media
Bridal Flowers: Nalika
Photobooth: Anita